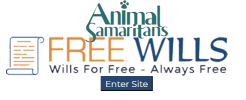 Animal Samaritan  .  Patron : Twiggy  .  Registered charity number :- 295345
Animal Samaritans is a UK registered charity operating in South East London and South East England
The aim of Animal Samaritans is to provide care and shelter for unwanted, abandoned, neglected or ill-treated animals and to provide new homes for them wherever possible.  We encourage neutering and ensure all cats and dogs are microchipped before re-homing.
We do not have a rescue centre facility so we rely on our wonderful group of volunteers and fosterers. We are always looking for new help so please contact us if you feel able to do so…

Rehoming – We try to find new forever homes for as many pets as we can. We operate a non destruction policy and never put a healthy animal to sleep.
Financial Assistance – Whether it is an unexpected vet bills, assistance with micro-chipping or neutering, we will consider every application for help.
Pet bereavement line – We offer help and advice for anyone dealing with the grief of losing a beloved pet. Our Bereavement service allows owners to talk about their pets and their grief in a non judgemental arena. 
Animals available for rehome
Tabitha & Samantha - Cats of the Month - Quiet home needed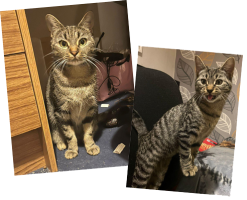 Tabitha and Samantha – 2 years and 16 weeks
This lovely mother and daughter came in to us after a lovely lady had been feeding them in her garden. These girls have come out of the shell in their foster home and are now friendly cats. They will need a quiet home with adults only and will need to be indoor only cats. They would prefer a home without other pets. £225 for both cats, includes neutering, both initial vaccinations, microchip, flea / worm treatment and 5 weeks free insurance.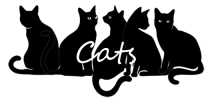 Andrew – approx 3 year old male.
Andrew came into rescue after a kind family fed him for months in their garden after his owner moved away. He wasn't chipped or neutered. Andrew is a lovely, chatty boy who is very happy to be indoors. He loves his foster mums sofa! He is cuddly and would make a great companion. As with a lot of strays, he's not interested in going outside so could be an indoor cat or have access to a safe garden. He could live with a family with children over 8. He is FIV / FeLV negative. £120 donation includes neutering, both initial vaccines, microchip, flea / wormer and 5 weeks free insurance.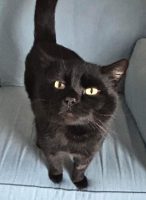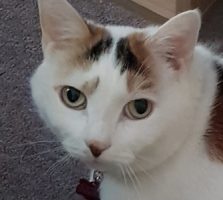 Camilla – 12 year old female
Lovely Camilla is looking for a nice quiet retirement home. Camilla likes calm surroundings with no other pets. She can be an indoor girl or have access to a quiet garden. She has no medical issues and recently had a dental. No children, adult home only. £90 donation fee – includes neutering, vaccinations, microchip, flea wormed and with 5 weeks insurance
Sabrina – 3 year old female
Magical Sabrina came into rescue after she was taken to the vets to be put to sleep due to a blocked bladder. We paid for her surgery and the vet diagnosed crystals in her bladder. This is easily kept under control by feeding her Urinary food and is likely to not occur again as long as she stays on her special biscuits. Just for reference, a bag of Hills Urinary biscuit is £25 and would last 8-10 weeks. Animal Samaritans would be happy to help at one of our vets if in the future Sabrina had another blockage. She does get scared by loud noises like fireworks and stress can play a part in bladder issues. x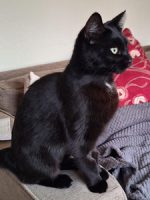 She's a fabulous girl, playful, cuddly and interested in everything. She would make a fabulous companion cat. Sabrina needs a stress free home with adults or families with teenage children and no other pets. She seems settled in her foster home so she could live as an indoor cat or have access to a garden. £120 donation includes both initial vaccinations, microchip, neutering, flea / worm treatment, 5 weeks free insurance and owner support for future bladder issues at one of our vets.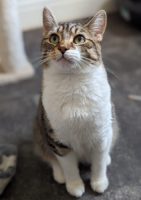 Mimi – 1 year old female
Mimi came into rescue due to her owner not being able to cope. We feel that Mimi has been tormented by small children and will need a home with adults only or a family with teenage children. Mimi will need a home with owners who have experience with cats. She's a friendly little soul with lots of energy and she likes a fuss and a cuddle but when she has had enough she needs to be left in peace otherwise she gives you a tap and a hiss (no claws). She has been with us a few months and has made amazing progress so in a loving home she will blossom. She will need access to a garden. She's fine with other cats and could potentially live with a cat friendly dog with proper introductions. £120 donation fee includes neutering, both initial vaccines, microchip, flea / worm treatment and 5 weeks free insurance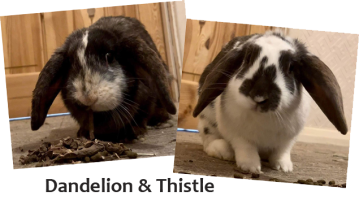 Can you give Dandelion & Thistle the five star home their dreams? Can you provide all the dandelion root and hay they require? A hutch is not enough!
Rabbits should never be shut in a hutch. So If you can offer a minimum area of 10ft x 6ft x 3ft tall at all times, then please contact us for an application form and home check. The girls are vaccinated and neutered and will be microchipped once we have a new home for them.
Available for adoption…bonded pair £120 adoption fee
From their foster carer… "These are lovely girls, they greet me every day waiting for their dandelion root, which is their favourite thing to eat. They're easy to pick up and will take food from your hand." Let's get these girls the home they deserve!
Some of the animals successfully rehomed by Animal Samaritans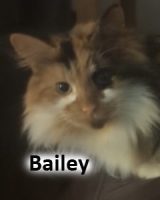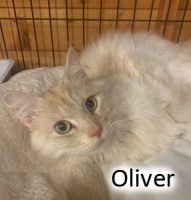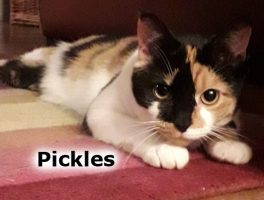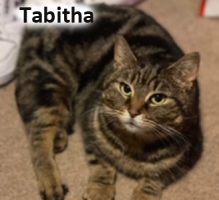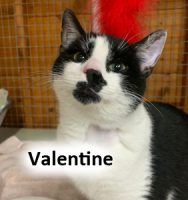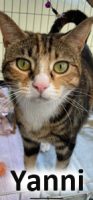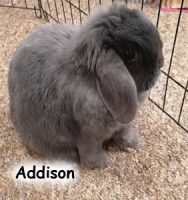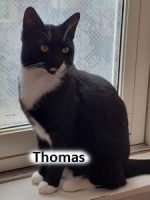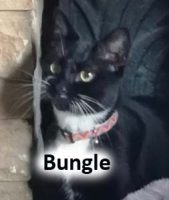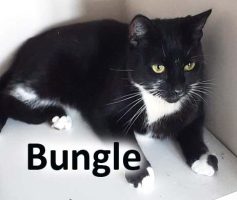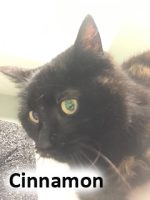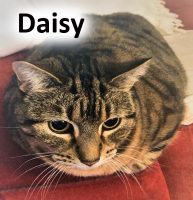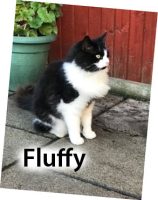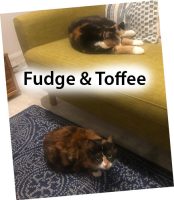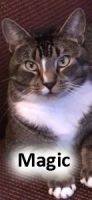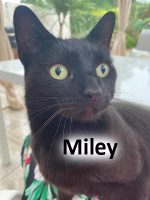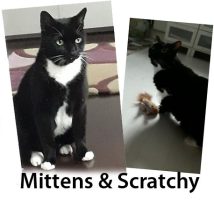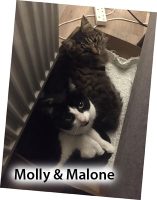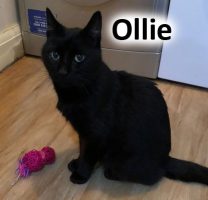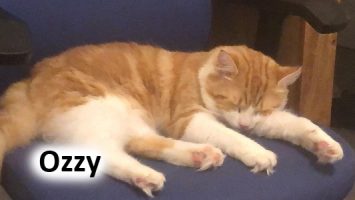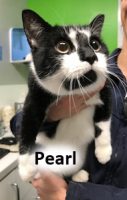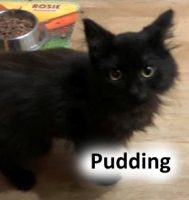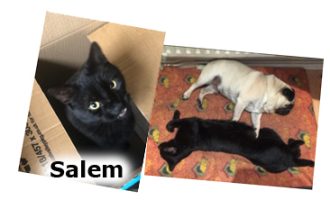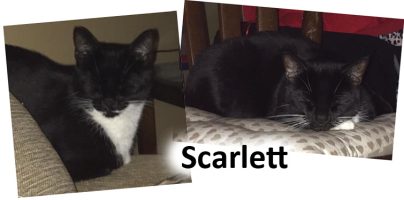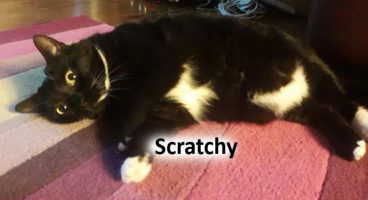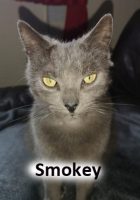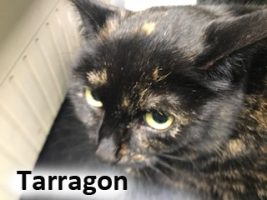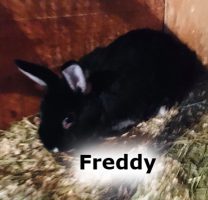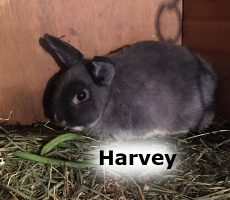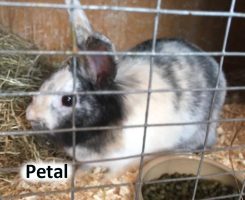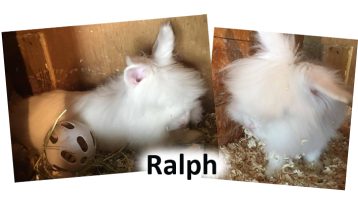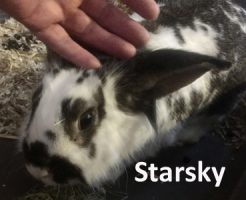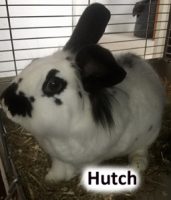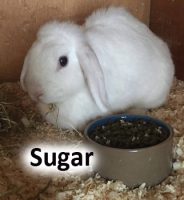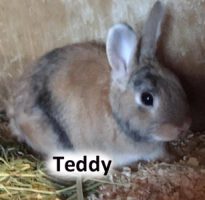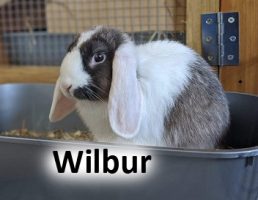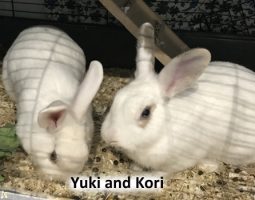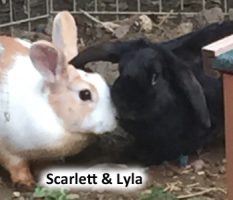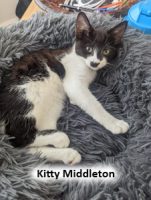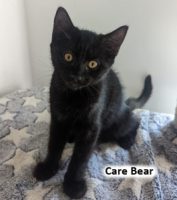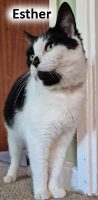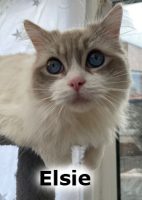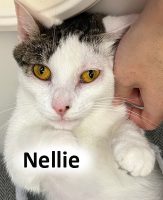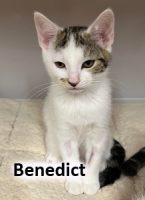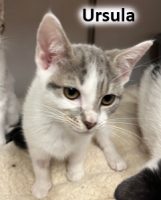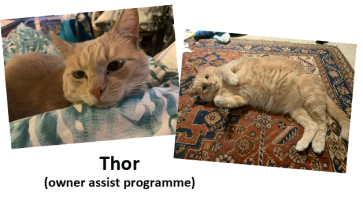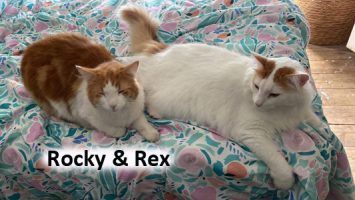 Call us on : 0203 7459859 
or email us at : Info@animalsamaritans.org.uk
or write to us at : Animal Samaritans, PO box 154, Welling, Kent. DA16 2WS